Butternut cream soup, peppers and spices
Ingrédients
Butternut

1

Apples

2

Onions

1

Shallots

2

Cassia Cinnamon Powder

1 tbsp

Maple syrup

1 tbsp

Peppers and spices Mix

2 tsp

Thyme

3 tbsp

Olive Oil

1 tbsp

Coconut Cream

200ml

Vegetable broth

Parmesan

8 tbsp

Buckwheat

1 tbsp

Butternut seeds

1 tbsp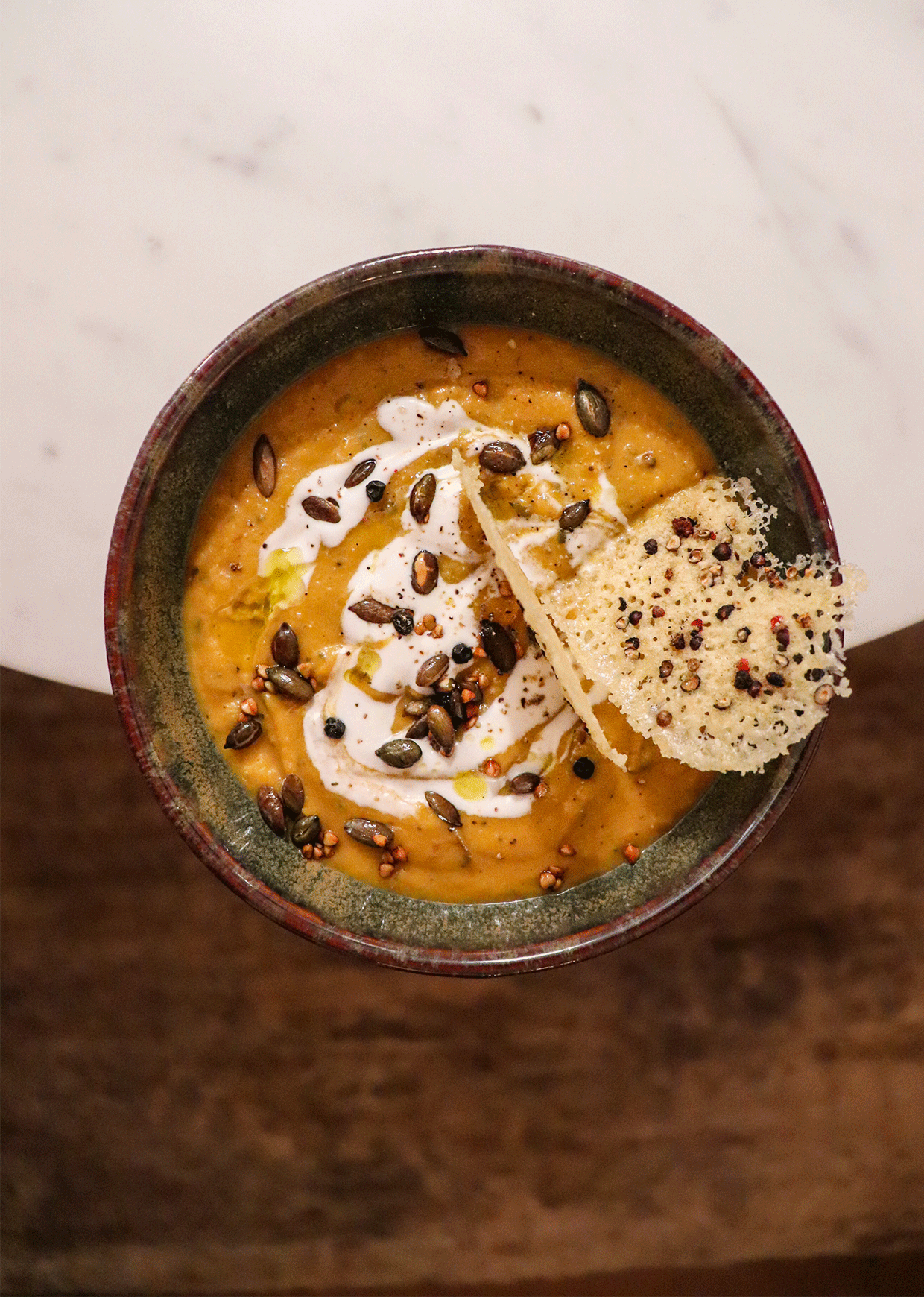 Preheat the oven to 220°C and place a piece of greaseproof paper on a baking tray. Peel the apples and butternut. Remove their seeds and cut them into squares. Peel and chop the onion and shallot. Place all the above ingredients on the baking tray. Pour olive oil over the vegetables and maple syrup. Add thyme, cinnamon and Pepper & Spice Mix. Bake for 40-50 minutes until the vegetables are tender.
Dilute or reheat the vegetable stock. Remove the butternut from the oven and add it directly to the bowl of a blender. Add a little vegetable stock with the coconut milk and blend until creamy. To thin the soup further, add the remaining stock – season with salt and Pepper & Spice Mix.
Place a sheet of baking paper on a baking tray. Place a tablespoon of parmesan cheese per chip. Add a pinch of Pepper & Spice Mix. Place in the oven for 3-4 minutes, watching regularly, and leave to rest for a few minutes.
In a saucepan, heat a little olive oil over low heat. Pour in the buckwheat and pumpkin seeds with a little salt. Let them cook for a few minutes. Serve the soup in a bowl, add coconut cream, parmesan chips and some roasted seeds. Season again with Pepper & Spice Mix if necessary.