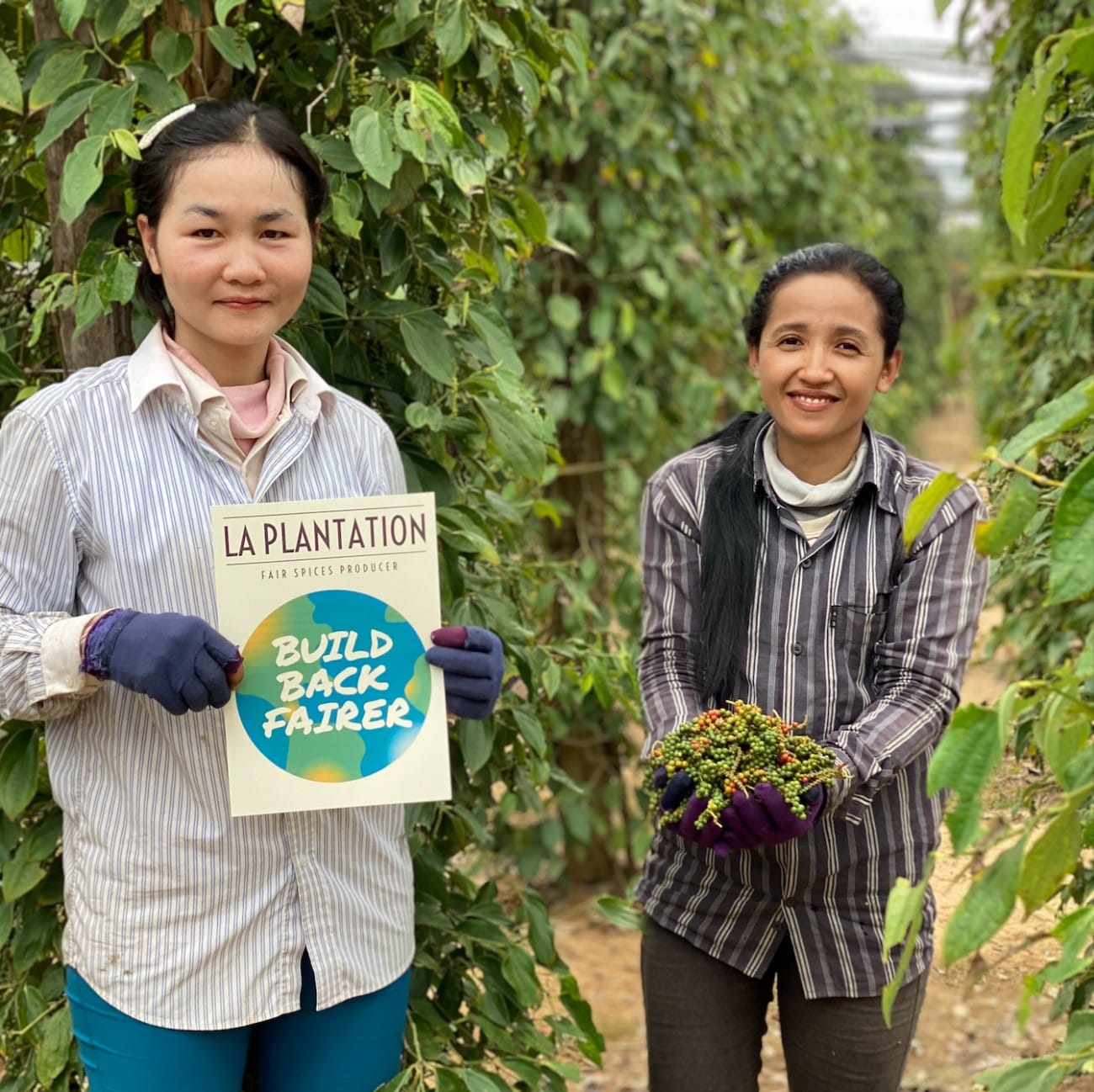 We tell you everything about the WFTO certification
Our fair trade program relies on 4 pillars:
– Traceability : We are focused on quality and we are continuously investing to ensure the production follows our standards. We value the effort behind fresh and qualitative spices with a full traceability from crop to end-user.
– Food Safety : Our farmers are trained and equipped to avoid contamination during the harvest
– Fair Pricing : By buying directly from the producer, the spices are fairly priced up to the consumer
– Customer Care : Sales and logistic support are provided by an experienced international team. Orders are shipped from the nearest logistic hub to limit the carbon footprint of each spice. Our team is dedicated to offer the best client experience and to process and deliver fresh spices all over the world.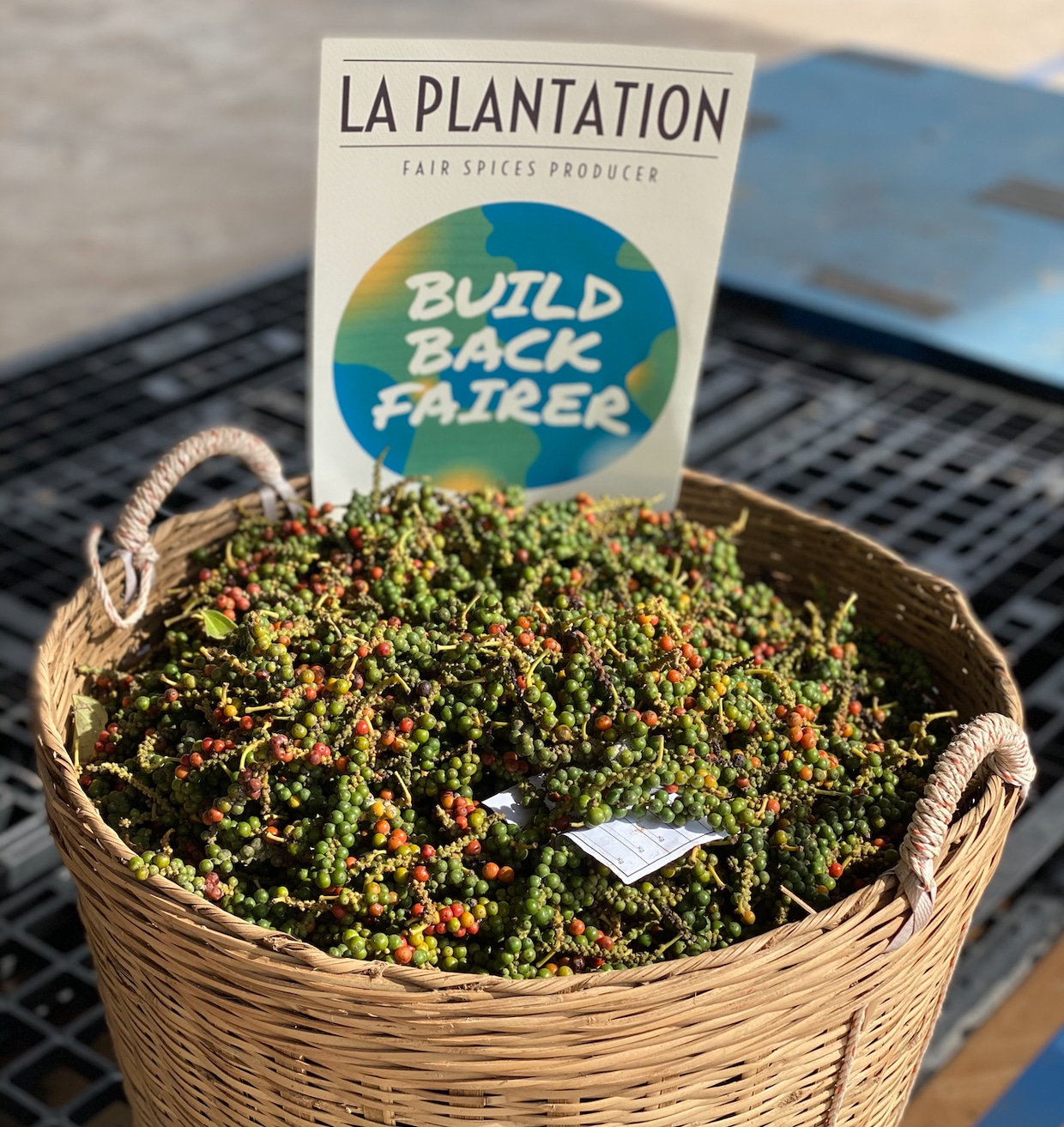 Small Farmers
When the KPPA members (Kampot Pepper Promotion Association) approached us in 2019 to seek support, a Fair Trade program was created to support small-scale farmers.
We are a fully independent family business who has been very active in promoting Kampot Pepper over the past years and we are convinced that sustainable sourcing is the foundation of a virtuous system:
– Small scale farmers fight against climate change with traditional production methods that protect local ecosystems
– Family farms spend their earnings in the local economy
– Traditional farming preserves century-old knowledge and endemic plants
– For spices purchased to external partners, the price is negotiated freely and mutually agreed to ensure a sufficient margin to producers.
– We are focused on quality and we are paying the fair price to ensure the production follows our standards.
Fair Trade recognises, promotes and protects the cultural identity and traditional skills of small producers. We find the producers behind the best quality spices available and market them to a global audience. The partnership program launched in 2019 is growing fast as we are meeting new independent partners. The original goal was to support producers in the Kampot area, and we soon realized that other regions with different ecosystems were home to great quality artisan spices such as wild cardamom collected in the Cardamom mountains forest by local pickers.
Our ambition is to create long term partnerships with these producers. We encourage and support them to grow new spice varieties. Our partners's revenue is guaranteed and we are committed to buy their full production at a fair price as well as pre-finance their harvest.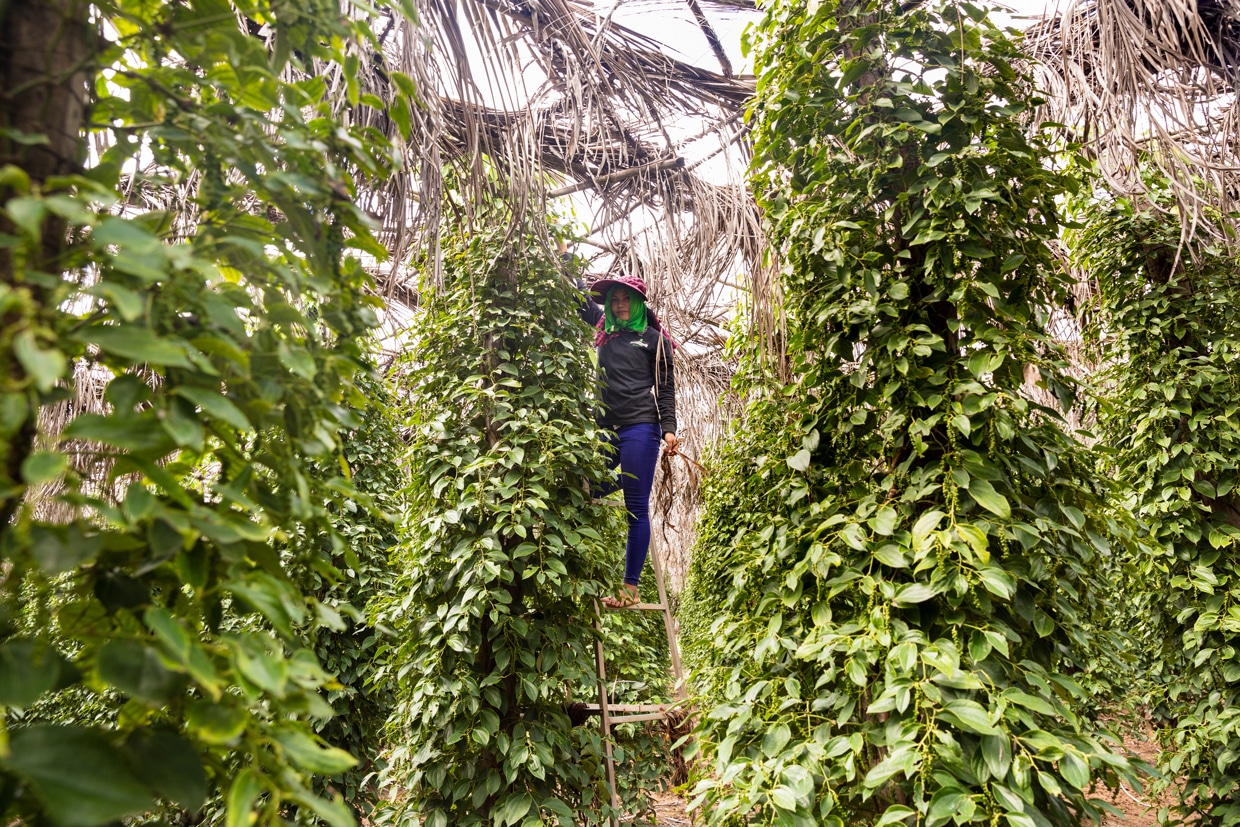 Working Conditions
Guy and Nathalie, the founders of La Plantation, decided at the very start that the full production chain would be located at our Farm, in southern rural Cambodia.
Harvest, selection, processing, packaging and storage are all done on-site. Even though it is not always the most efficient or convenient way, the benefits are numerous: strict quality control from the crop to the final packaged product, transparency and traceability all along the chain, and the preservation of a traditional know-how by the local community.
The spices are harvested and selected by hand, following centuries old traditions. Some of our collaborators come from several generations of pepper farmers in the region, and their knowledge of the local terroir cannot be found in any agriculture book.
We support our rural community by employing 100+ farmers all year long, and 200+ during harvest season, which last almost 6 months a year.
– Good Working Conditions : Working conditions are obviously compliant with the local Labour Laws and ILO conventions. Those living too far to commute every day are offered accommodation on the farm, free of charge. We make sure to provide a safe work environment and are proud to have no accident record since we launched operations 8 years ago. The salaries of our employees and their benefits are revised every year.
– 3 Meals per day : All workers get 3 healthy meals per day.
– Training : We organise regular training on food safety, hygiene and food processing. We encourage internal promotion within our staff.
– Free Medical Care : All workers are covered by a health insurance. They can access to hospital and medical care free of charge.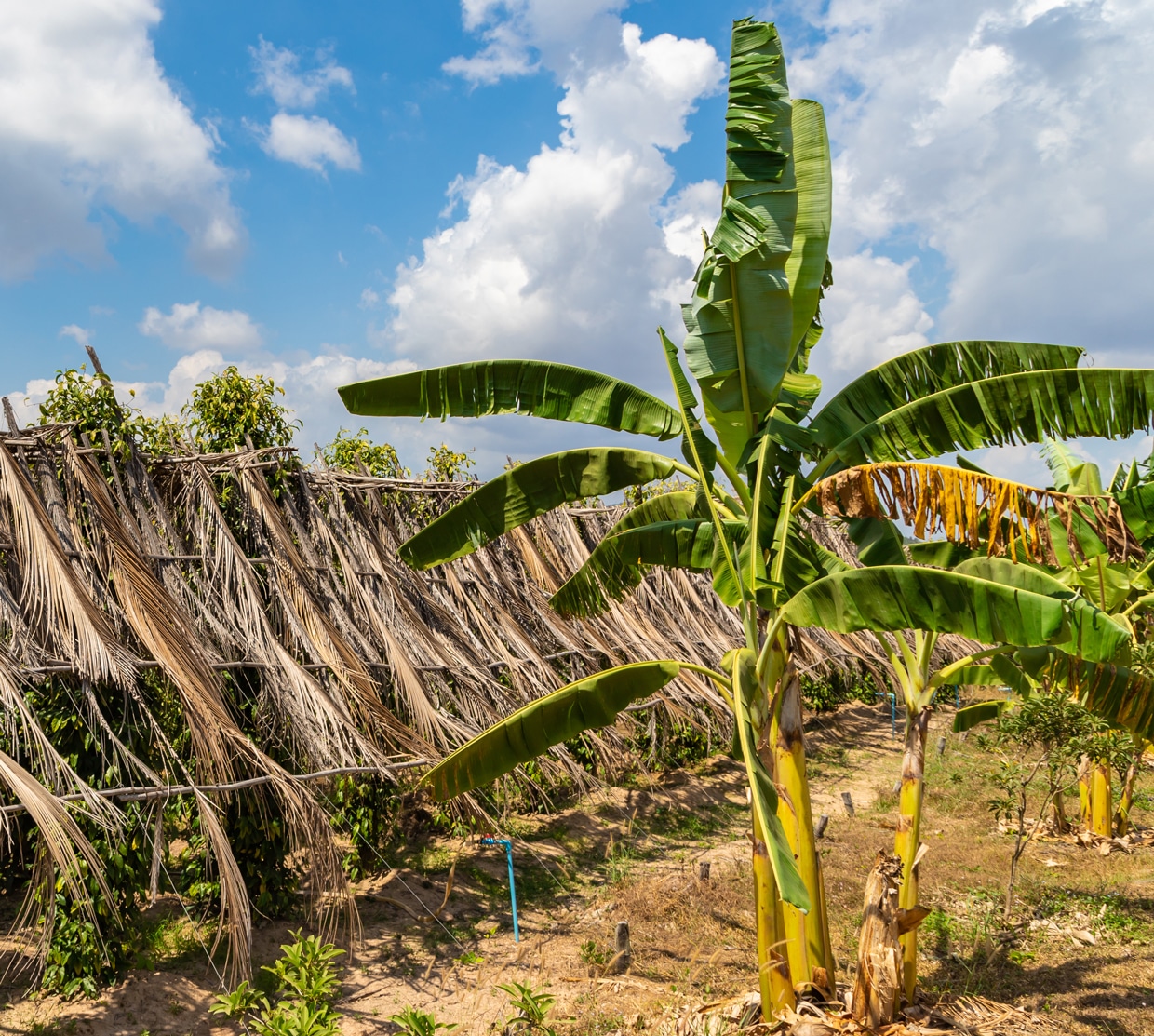 Education
Education is key to ensuring no Child Labour and Forced Labour.
Agriculture is the main sector where child labour persists today in developing countries, hindering them to experience a safe childhood. We have strict policy regarding employment and we make sure that all our full-time collaborators are over 18 years old. Our HR team is trained on such issues. Our employees are protected by a contract, compliant with local Labour laws.
To go even further in children protection, we are committed since 2013 to support education for the children of our community.
About a hundred students benefit from our support with school equipment and bicycles, so they can go to school. We built a new access road to the school and are maintaining the buildings. We financially support our village's Primary School with a complementary salary for teachers, which permits lessons to children in the morning and in the afternoon.
We have also developed a Scholarship for the students to join the Secondary and High School in Kampot. In order to help them commute every day to Kampot from our village (20km), we drive by mini-van them morning and evening. We also finance the school curriculum, the uniforms, the books, the stationary and the food.
We support weekly English classes and discussions.
Finally, we are partnered with Bayon's School. Students from the new agro-ecological program will learn practical agricultural techniques during their internship at La Plantation.
Notre Heritage
Préserver l'architecture Khmère et l'artisanat local :
Notre engagement pour la préservation de la culture locale n'est pas uniquement focalisé sur les épices. Alors que dans les campagnes les maisons en bois sont remplacées par des bâtiments en béton, nous avons décidé de nous battre contre cette destruction de l'architecture Khmère traditionnelle. Nous achetons des maisons promises à destruction et les rebâtissons dans notre propriété où nos visiteurs peuvent comprendre le mode de vie rural. Notre sublime Salachan est le parfait exemple du sauvetage de ce patrimoine.
Nous supportons également l'artisanat local, en produisant un mortier et pilon en bois de palmier à sucre, ainsi que des écharpes traditionnelles, les Kramas.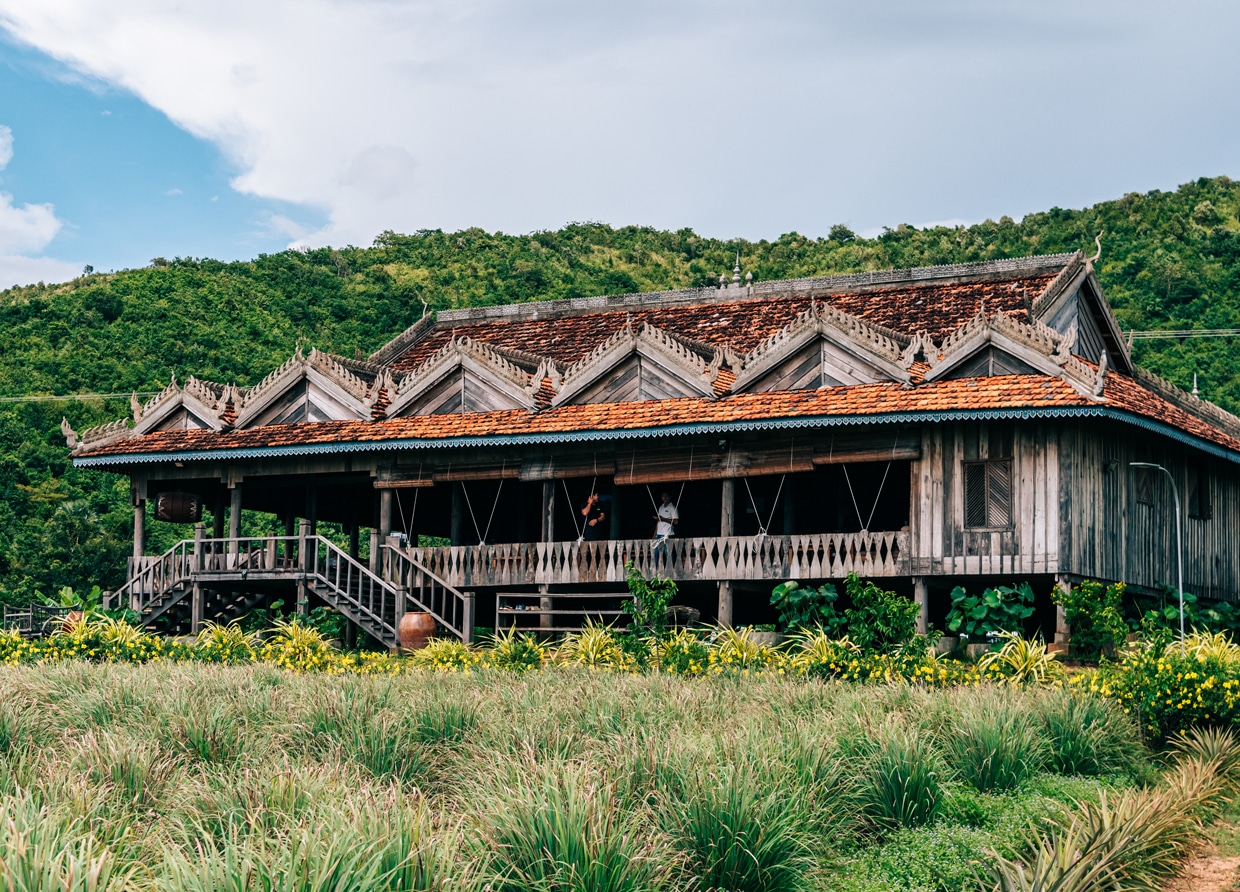 Respect for the Environment
Preserving our environment is vital for all, and especially for us to ensure the supply of quality spices on the long run. We are cautious of our waste and run programs to increase biodiversity and naturally enrich our soils. Our solar panels give us the chance to cover part of our needs with clean energy.
We follow Sustainable Agriculture practices such as organic production, the use of natural intrents, permaculture, crop rotation. We plant hundreds of trees in the Plantation to develop the local biodiversity and protect our natural environment.
Our Farm is Certified Organic as well is our group of independent small farmers, which we support and train to access the certification.
Direct to Producer
The quality and freshness of spices are fondamental in the project of La Plantation. Our mission is to propose Cambodia's best spices to the whole world, focusing on our own organic agriculture as well as our collective of small farmers, who grow for us and are engaged to only use natural intrents.
Our spices are treated on the day of the harvest to keep all their aroma and freshness. They are quickly expedited to our logistical centres across the world and can be found on our e-shop or in our partners' aisles and in your kitchen only weeks after being harvested.
A traceability system allows us to follow each product from our farm to your table.